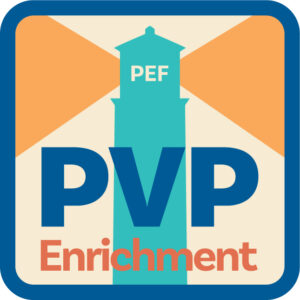 PEF'S AFTER SCHOOL ENRICHMENT CLASSES
We are excited to offer you a revamped enrichment program this year! Please take a look at our spring after-school enrichment classes that are being offered at various school sites.
For elementary school students (1st-5th grades), school is dismissed on Mondays at 1:30 pm and enrichment classes begin at 1:35 pm. Enrichment classes beginning after school at 3:05 pm Tuesday thru Friday include supervision for students in 1st and 2nd grades who are not enrolled in Kid's Corner.
Our Kindergarten students are welcome to join enrichment classes that include that grade level but will need to be supervised by their parent/guardian until class begins. Students may take enrichment classes at any school site, not just at their home campus. Please see our music classes at PVIS and Ridgecrest (for elementary students) on Thursdays and Saturdays. Plus, look out for a class for our high school students called Photography: Telling your story without words by Erik Jay on Saturdays from 10-11:30 am at different locations throughout Palos Verdes! 
A 50% tuition discount is available for any student enrolled in an assistance program.  Students enrolled in the PVPUSD Free and Reduced Price Meal Program or other similar program (Cal Fresh/Cal Works, etc.) are required to complete our PEF/PVPSS Discount Application to receive a coupon code prior to registration.  You will be required to upload proof of assistance (a copy of the PVPUSD Free and Reduced Price Meal Program confirmation letter or documentation of another state or federal assistance program). If you have any questions about eligibility, please email [email protected]. If you qualify for the discount, please do not register without the COUPON CODE as no refunds will be given.
*Please note that Kids Corner is not affiliated with PEF and is not included in our tuition assistance program.
CORNERSTONE: BREATHE & LEARN KIDS YOGA
CORNERSTONE: WELCOME SPANISH
CORNERSTONE: PAINTING THROUGH NATURE
CORNERSTONE: ELECTRIKIDS HIP HOP
DAPPLEGRAY: PV SCHOOL GARDENS JR BIOLOGISTS: BACKYARD BUGS, BLOOMS, BERRIES AND BITES
DAPPLEGRAY: MUSIC TECHNOLOGY WITH MR. PERRY
DAPPLEGRAY: SUPREME STRINGS WITH MR. C
DAPPLEGRAY: INTRO TO CHOIR AND MUSICAL THEATER
DAPPLEGRAY: PROFESSOR EGGHEAD-ANCIENT WONDERS LEGO
DAPPLEGRAY: INTRO TO CHOIR & MUSICAL THEATER
DAPPLEGRAY: IMPROVISATION
LUNADA BAY: PROFESSOR EGGHEAD-MEGA MACHINE LEGO
LUNADA BAY: YOGA, MEDITATION & MINDFULNESS
LUNADA BAY: ACTING FOR FILM AND TV
MIRA CATALINA: SOCCER CLINIC
MIRA CATALINA: PAINTING THROUGH NATURE
MIRA CATALINA: MUSIC COMPOSITION FOR FILM
MIRA CATALINA: PV SCHOOL GARDENS JR BIOLOGISTS: BACKYARD BUGS, BLOOMS, BERRIES AND BITES
MIRA CATALINA: CHESS CLUB
MONTEMALAGA: YOUTH YOGA JOURNEY
MONTEMALAGA: ACTING FOR FILM AND TV
POINT VICENTE: PROFESSOR EGGHEAD-ANCIENT WONDERS LEGO
POINT VICENTE: COMMUNICATE WITH CONFIDENCE
POINT VICENTE: IMPROVISATION
RANCHO VISTA: MUSIC COMPOSITION FOR FILM
RANCHO VISTA: PROFESSOR EGGHEAD-ANCIENT WONDERS LEGO
SILVER SPUR: COMMUNICATE WITH CONFIDENCE
SILVER SPUR: INSTRUMENTAL ENSEMBLE-BAND
SILVER SPUR: ELECTRIKIDS MUSICAL THEATRE
SILVER SPUR: PV SCHOOL GARDENS JR BIOLOGISTS: BACKYARD BUGS, BLOOMS, BERRIES AND BITES
SOLEADO: ELECTRIKIDS HIP HOP
SOLEADO: PROFESSOR EGGHEAD-ANCIENT WONDERS LEGO
VISTA GRANDE: COMMUNICATE WITH CONFIDENCE
VISTA GRANDE: WELCOME SPANISH
VISTA GRANDE: SNOW CHOIR WITH MR. C
VISTA GRANDE: PAINTING THROUGH NATURE
PVIS: BAND BEGINNINGS AND STRINGS START
RIDGECREST: LEARN BAND AND STRINGS
VARIOUS LOCATIONS: PHOTOGRAPHY-TELLING YOUR STORY WITHOUT WORDS WITH ERIK JAY