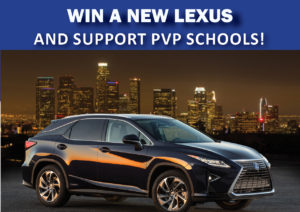 Do you see yourself riding this beautiful Lexus RX Hybrid? It can be yours by purchasing PEF's Lexus raffle tickets! The 2017 Lexus RX Hybrid 450h is a luxury midsize SUV that delivers the blissful comfort you expect while also providing solid performance and excellent fuel economy.  Read more…
Tickets are 1/$50 and 3/$125. Your purchase supports our PVP schools! Winner will be drawn on May 13 at Main Event. (Winner need not be present to win.) Download a raffle ticket for 2017 Lexus RX Hybrid.
This Lexus RX Hybrid has been generously donated by the Lexus Division of Toyota Motor Sales, USA.