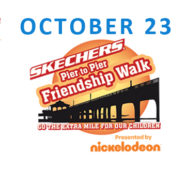 Join us on Sunday, October 23 for the Skechers Pier to Pier Friendship Walk. Bring your friends, family and neighbors with you as we walk the pier to pier loop between Manhattan Beach Pier and Hermosa Beach Pier (just over 3.5 miles) and help us raise funds for all of our PVPUSD schools.
If you are not able to make it on the 23rd, you can register as a "virtual walker" and we will get credit for your participation. Last year, PEF set a record with 4,300 registered walkers which resulted in a check from Skechers for $240,000.
You still have time to register for this fun and inspiring event. Go to www.skechersfriendshipwalk.com and click DONATE.  Sign up for your school's team and remember to select Peninsula Education Foundation as the charity you support.