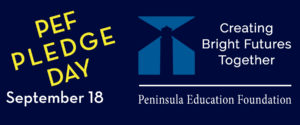 PEF is off to a good start in reaching its $3.1 million goal this school year, but we need 100% participation from our school families to maintain funding for the crucial programs our students deserve. If you didn't donate to PEF in your school's registration packet, please support our schools on or before PLEDGE DAY, September 18, 2018.
You can PLEDGE NOW AND PAY LATER!  We are committed to working as a team to provide the high-quality education our PVPUSD students deserve. Make a pledge on or before Sept 18 to donate a specific amount to PEF during this school year. We will be happy to send you a reminder by mail. You can pay by check or credit card. Monthly and quarterly payment plans are also available.
Your gift commitment supports:
Elementary Music
Elementary PE
Library Aides
STEM in grades 4-12
Parent University
Academic/Wellness Counselors
College and Career Centers
High School Science Fairs
Senior Scholarships
Chuck Miller Grants for Teachers
Teaching Positions
Your donation fills the gap between an adequate and excellent education. Pledge HERE now!