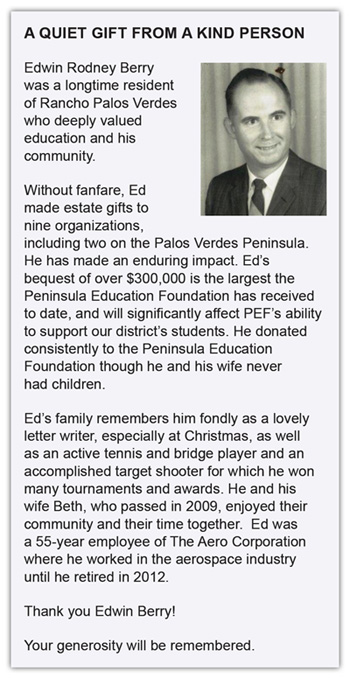 Remembering PEF in your estate plan gives you the satisfaction of knowing you have made a lasting contribution to public school education in Palos Verdes.
You may earmark a deferred gift or estate gift to the Endowment Fund or to PEF's Annual Fund.  In certain cases, donors may establish their own individual or family endowment fund, directing that the proceeds of that fund be used for a need identified by the PVPUSD and PEF that is particularly meaningful to the donor.
Simple Bequest:
A bequest is simply stated in a will, living trust or trust amendment.  Our office can provide you and your legal counsel with appropriate language to use when including a bequest in your estate plan.  Many donors prefer to bequest a percentage of an estate or asset to help ensure their heirs are taken care of as they intend them to be.
Life Insurance:
You can name the Peninsula Education Foundation a partial or single beneficiary of a new or existing policy.
Retirement Plans:
You can name PEF as a beneficiary of your IRA or other qualified plan.  Retirement assets are an excellent charitable gift to make, in part to avoid the chance of double taxation from estate and income taxes.
Charitable Gift Annuity:
A life income gift or gift annuity can provide you with guaranteed income for life from your gift of cash or securities.  By using appreciated assets such as securities to fund a life income gift, you can receive significant tax-saving benefits and supplemental retirement income while helping to secure the future of PEF.  PEF does not sell annuities nor provide information on particular annuity providers.  It is recommended that you seek your own qualified consultation regarding purchase of an annuity.
Charitable Remainder Trust:
You may create a charitable remainder trust (CRT) with appreciated assets.  The trust pays you or your designee income for either a period of time or life, with the remainder of assets going to the Foundation.  You may achieve very significant federal and state capital gains tax reductions and estate tax reductions from a CRT.
The information provided is not intended to substitute for professional estate planning guidance or qualified tax consultation.  Your tax or legal advisor can help you explore your options.
Donor Bill of Rights & Donor Privacy:
We will keep complete confidentiality if you wish your gift or gift plans to remain anonymous.
We will never share your personal or giving information with other organizations.
We will respect your wishes regarding acknowledgement of your donation.
We will respect your wishes regarding our contact with you.