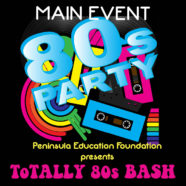 Palos Verdes Peninsula's biggest fundraiser of the year, Main Event, will be held on May 12, 2018 at Terranea Resort. Join us for a Totally 80s Bash and reminisce about music by Devo, Blondie, Men at Work and Tears for Fears. Remember shoulder pads, Members Only jackets, leg warmers, Pac Man, Rubik's Cube, everything neon and dot matrix printer paper? ! This highly anticipated event will also feature our online auction, live auction and silent auction. Look out for more details about a special major donor reception prior to Main Event that will totally tantalize your tastebuds featuring Peninsula High's own Chef Holden Dahlerbruch!
Be sure to take advantage of Flashback Pricing: $225/person before April 11. $250/person after April 11. Tickets can be purchased here.
View our 2018 Main Event Auction form.  View our Main Event 2017 Main Event Auction Catalog.
There are also two raffles that you don't want to miss because it may be your lucky day!
Win a 2018 Lexus RX Hybrid and support PVP schools at the same time! Download and print tickets here or call 310-378-2278.  Tickets are 1/$50 or 3/$125.
Purchase a raffle ticket to win a year of dining at Terranea Resort! Four people can dine at Terranea's Catalina Kitchen once a month for an entire year! Download and print tickets here or call 310-378-2278.  Tickets are 1/$100.
ALSO, be sure to check out our online auction at www.maineventauction.com from April 13-22. This is an easy and convenient way to shop and get great deals for health and beauty packages, sports camps, vacations, VIP graduation seats, tickets to sporting events and much more!
View pictures from Main Event 2017 here.