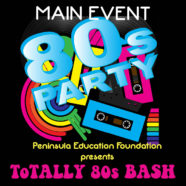 Palos Verdes Peninsula's biggest fundraiser of the year, Main Event, will be held on May 12, 2018 at Terranea Resort. Join us for a Like Totally 80s Bash and reminisce about music by Devo, Blondie, Men at Work and Tears for Fears. Remember shoulder pads, Members Only jackets, leg warmers, Pac Man, Rubik's Cube, everything neon and dot matrix printer paper? ! This highly anticipated event will also feature our online auction, live auction, silent auction, and raffles for a Lexus Hybrid and 1-year of dining at Terranea.
Attended by over 500 guests and promoted to the entire community, Main Event is a great opportunity to show your support for our schools in the PVPUSD. If you would like to donate an item or service to our Main Event auction, fill out the form below and email to Kristin Curren at Kristin@pvpef.org by April 12, 2018.
View our 2017 Main Event Auction form.
View our Main Event 2017 Main Event Auction Catalog.