The community report describes the foundation's goals, programs, financial overview, student successes, leadership and our wonderful donors who make all of this possible.
The mission of the Peninsula Education Foundation (PEF) is to engage and inspire our community in support of student success in our local schools. PEF supports programs and positions that keep our schools among the best in the nation and the state. To do that in the 2016-17 school year, we have increased our pledge to the school district to $3.5 million.
The PEF funds:
Teaching Positions District-Wide
School Site Tech Squad
Teacher Grants
Elementary School Programs
Intermediate School Programs
High School Programs
Scholarships
Academic, College & Career Counselors
and much, much more!
 Click to view the full report!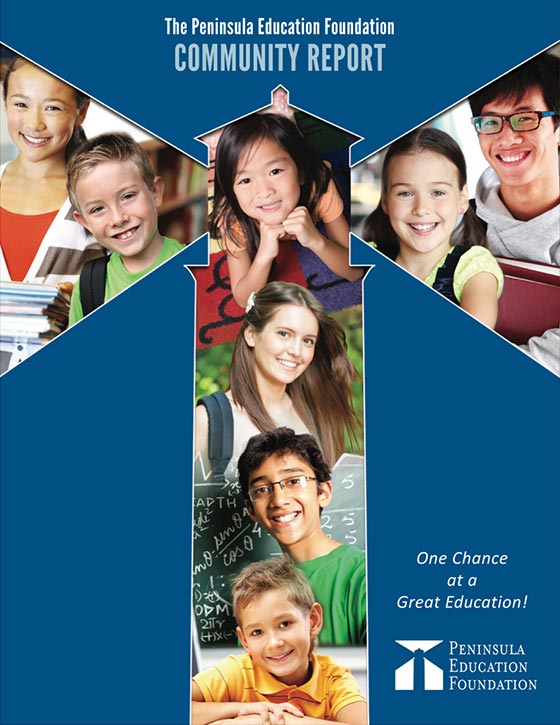 Excerpts from the Community Report
At the Peninsula Education Foundation, we believe there is just ONE chance to provide a great education for your child. As such, we are committed to raising funds to ensure PVPUSD has sustainable resources to provide the highest quality education now and for future generations. Our pledge to the district this school year is $3.5 million. We could not fulfill this pledge without our strong team of volunteers, which includes but is not limited to PEF Trustees, PEF representatives, PTA & Booster Club members, teachers, principals, countless parents and students who all work hand in hand to meet ONE common goal.
Each year the need for program support continues to increase, yet our district still does not receive adequate funding from Sacramento to provide the world class education we all want for our children. PEF's $3.5mm pledge helps to fill that gap.
We need everyONE's help to meet our pledge this school year. Your ONE donation to PEF will make a significant difference to your child's education. If we can all come together as ONE community, we can continue to fill the gap in funding and keep our schools great. The suggested PEF donation per child is $750 or a meaningful amount to your family.
We know that many of us live in Palos Verdes because of the schools. We are so very fortunate that our public schools are as good as, if not better than, many private schools. Supporting PEF is a drop in the bucket compared to private school tuition. Heck, it's even a bargain compared to preschool tuition. Please join us in keeping our schools great. WE have ONE chance. YOUR child has just ONE chance at a world class education. Let's all do what we can together to give each and everyONE of our children a great education!
Letter From Our Executive Director
At PEF we are so very grateful for those who support our efforts to raise funds for our school district so that critical teaching positions, music, STEM and other support programs can be maintained and our children can continue to receive a world class education.
Last month we presented the school district with a check for our full pledge of $3.4 million dollars. We reached our goal through everyone's support. Whether you gave an individual donation, had your company give a matching gift, attended one of our events, or a combination thereof, it is only with your help that we are able to make this happen each year. In the 2015-16 school year, we had a wonderful time working towards our goal. A record number of enthusiastic families supported our schools this past fall at the Skechers Friendship Walk. I look forward to setting another new record this year on October 23rd!
Our Saturday Night Live themed Main Event was not only a huge success, but it was incredibly fun to see so many of you attend dressed as your favorite SNL characters. We had an anonymous donor match new donor contributions during the spring and many families stepped up to that generous challenge. In March, we also received the proceeds from a marvelous event put on by the Select Strings Foundation that included an all-star lineup of musicians at the Classic-To-Rock event.
At PEF we are excited about what the new school year has in store. We have increased our pledge to the district and are ready to work with everyone in our community to help keep our schools great. We are ONE community and every ONE of us can make a difference!