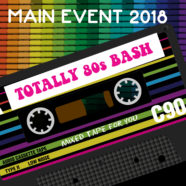 Palos Verdes Peninsula's biggest fundraiser of the year, Main Event, was held on May 12, 2018 at Terranea Resort. It was a Totally 80s Bash celebrating the over-the-top decade of big hair, big cars and great music! This highly anticipated event also featured an exciting live and silent auction which raised much needed funds for our PVPUSD schools. Major Donors were treated to a special pre-reception featuring Peninsula High's own Chef Holden Dahlerbruch and Culinary Playgrounds. Guests participated in the Chef's Challenge and voted on their favorite food prepared by Joel Miller, Executive Chef at The Wallace, Urvi Rajia, Partner/Chef at Bollywood Zaika and Jennifer Story, Executive Chef/Owner of Cookin' Thyme.
Many thanks to our Main Event Corporate sponsors: Lexus, Toyota, Terranea Resort, Kinecta, Freeman, Vector USA, Honda, KPMG, Kashi, Malaga Bank, Medawar Jewelers and Cox Communications. We appreciate your commitment to education and to the future of your children.
View our 2018 Main Event Auction Catalog HERE.
View pictures from Main Event 2018 HERE.